Nature trails. What's the big deal? You've seen trees and flowers and bugs before. So what? Well, if a nature trail is worth its salt (and has been designed thoughtfully), it should appeal to at least four of the five senses (taste is the exception, unless you're a clued-up forager). The trail should inform, without making you feel like you're in school, and it should delight, giving you more understanding of the natural world and how precious it is.
The Nature Trail at Horticap ticks all the above boxes. The revamp was made possible through a generous donation. While you might see the odd fairy door here and there, the trail is definitely not just for young children. Visitors of all ages will appreciate its confines and it's fully accessible by wheelchairs and pushchairs.
Spot the…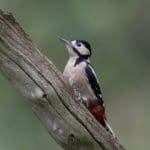 Identification boards are dotted around showing different plant, leaf, bird, fungi, and butterfly species. While little ones might simply point and smile at a random butterfly, older children (and adults) can go a step further and identify the species. Colourful signs explain how Horticap is focussed on sustainability by generating green energy from its own wind turbine and collecting rainwater that's used, among other things, to flush toilets. Protecting the environment is a top priority for the charity.
It's just make believe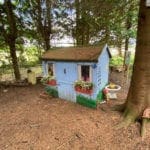 The painted cottage, straight out of a fairy tale, will engage younger children, as will the miniature dwellings where it's rumoured the wee folk live. There's also a wooden Wendy house and a stage that are both perfect for role play and igniting the imagination. You could end up watching a future BAFTA winner. If music is more their thing, there's a set of tubular bells to try. (Google Mike Oldfield.)
Take one arc welder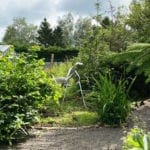 As you meander along, something unexpected may come into view, such as a metal sculpture of a helicopter by Darrell Evanes or a colossal praying mantis by Steve Blaylock. We like to think these installations will nurture art appreciation in the young, and maybe an interest in engineering!
Twitching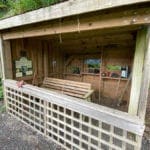 There's quite a large pond, which is safely fenced off, and next to it sits the hide, with binoculars and seat for budding twitchers. The bird-spotting board will help with identification, plus there are free phone apps to help, such as Smart Bird ID. Of course, sitting patiently may not appeal to the youngest children, but they might surprise you.
No room service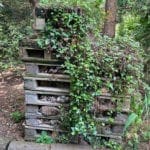 As creepy crawlies and other bugs are vital to the environment, you'll see large insect 'hotels' where they can check in. You might find ladybirds, bees, spiders, and woodlice making themselves at home. It's said that without bees, we would starve, and as insecticides and other factors are decimating bees, Horticap decided to set up its own beehives, which are set back away from the path. They sell the honey produced in the shop. There's no danger from the bees unless you interfere with them, so just keep a respectful distance from the hives.
Om

Even without children, the nature trail has its attractions for adults. There are secluded spaces where you can just sit and be mindful. We can all do with more opportunities to stop 'doing' and start 'being' with our surroundings. It's amazing how the senses tune in to sights, sounds, and smells that they never noticed before. It can be a bit like Jake Sully in James Cameron's Avatar, when he begins to 'see' for the first time. Nature can be that powerful.
Once you've explored the pushchair and wheelchair accessible nature trail, pop into Hopkins Café for tasty refreshments, then browse the gift shop and pick up a plant or two in the garden centre. You can learn more about the new cafe and gift shop in our blog. The nature trail is free to enter and is open Monday to Saturday from 9am to 4.30pm and Sunday 10am to 4pm.