The last few weeks have been challenging for us all and here at Horticap we are busy keeping things ticking along until everyone can return – we miss the students so much – they are at the heart of what we do and we can't wait to get the Horticap family back together.
We'd love to hear what our students have been up to during this time, and so we are asking family, friends and support workers to send photographs in to us so that we can share them with everyone. Send them to our Horticap Facebook page, email to info@horticap.org or send them to us at Horticap, Bluecoat Wood Nurseries, Otley Road, Harrogate, HG3 1QL.
We've heard from Carl who has been staying with his mum and dad until Horticap reopens for students. He's been busy helping his dad in the garden, showing off some of the skills he's learnt at Horticap. He says that he's in charge of keeping his mum and dad safe. His nieces and his sister, Debs, are doing their shopping and when Debs drops the shopping off he shouts "it's the sister". He's also spending lots of time watching his hero Alan Titchmarsh on DVD – he's Alan's number one fan and Carl has ordered more of his books and DVDs. Thank you Carl, it's so lovely to hear from you, you're going to be a gardening expert when you return!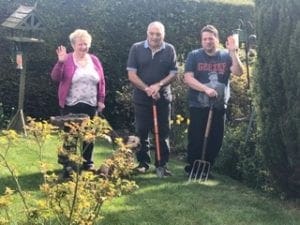 Keep safe everyone and send in those photo's to keep us all smiling!